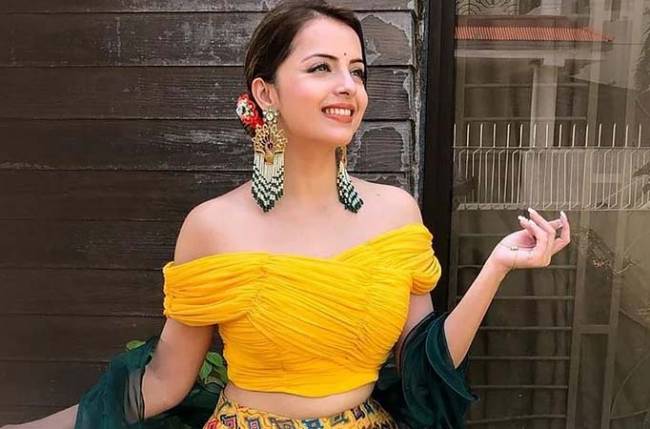 Actress Shrenu Parikh, who had tested positive for Covid-19 in July and recovered after spending a few days at a hospital in Vadodara, is back in action. She recently shot for a music video in Palghar (Maharashtra) and says that while she was a bit nervous while facing the camera again after a long break, she thoroughly enjoyed herself.
"This was my first shoot after recovering from COVID-19 and facing the camera again after almost five months made me quite emotional. I felt a rush of emotions because I had really missed being on the sets. While I was excited, I was a bit nervous and scared as well because a few months back, I had probably contracted the virus while I was on the set for a shoot. But overall, I loved the experience. Although it was a very hectic day, I enjoyed every bit of it. It was a much-needed break from staying indoors all the time and I felt rejuvenated. When you haven't faced the camera for months, it's pretty common to feel a bit jittery. I have been working out to gradually lose weight and I was very conscious about how I was looking. But eventually, I managed to do a good job.", she expressed on joining work after taking a break for her Covid-19 diagnosis.
Being accompanied by her own team of makeup artists, she informs, "I don't prefer doing my own makeup and given the current circumstances, I took my own team of makeup artists to the venue. During these times, it helps when you work with people who have known you for a while because you share a certain comfort level with them. They wore PPE kits and never took off their masks during the shoot.".
Talking about paranoia, Shrenu expressed, "The entire shooting experience is drastically different now. The sets and makeup rooms are sanitised at regular intervals, and we are shooting with fewer people (about one-fourth of what we usually have on the sets). Constant announcements are made requesting people to wear masks. The actors are the most vulnerable people on any set because we can't be wearing a mask all the time, and come into contact with many people. I am now extra careful and while people may think that I am paranoid, I can't really help it. After the kind of experience that I had while battling COVID-19, I feel that all of us need to be very careful while working.".
Revealing about her next project, she said, "Comedy is one genre that I haven't really explored and I would love to do a comedy on TV next. I am also open to doing good web shows.".