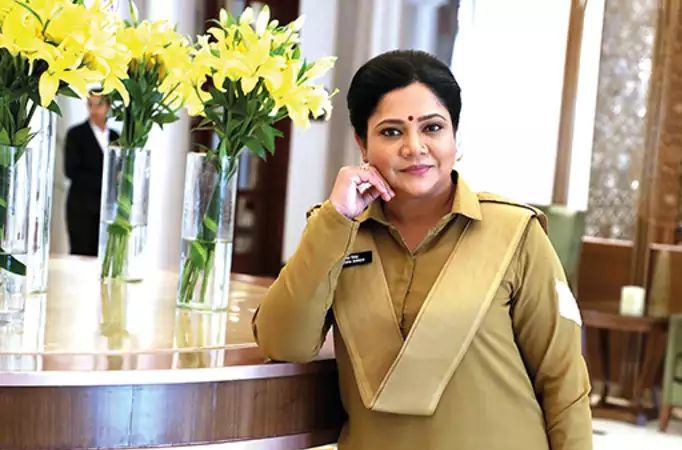 MUMBAI :After a three-year-long successful stint, Maddam Sir is all set to go off air soon/has gone off air. Fans were quite shocked when the news came out. The show was by Jay Mehta and Kinnari Mehta's Jay Production. Actor Sonali Naik, who played the role of Pushpa in the show, shares about the journey that has been.
"A whole book can be written on the experience of working in Maddam Sir. It is a show that every actor wishes to be a part of and which sets a benchmark in their career. I am and will always be grateful to God that I have been a vital part of this show," she sounds emotional.
Summing up Pushpa's journey, Sonali adds, "Pushpa always said how much she wanted to solve a case on her own, which never happened. So when she does it's the proudest moment and she's finally satisfied that she could fulfil her dream."
That Maddam Sir came to an end with 750 episodes is a milestone and surviving two lockdowns is a big thing in itself, feels the actor.
Praising the producers, she says, "This was my second show with Jay Production. My first was Gathbandhan. After it ended, I got happily roped in for Maddam Sir. It has been great working with the team. This was the biggest show of my life."
Maddam Sir set high benchmarks of comedy. "I used to believe that I didn't know comedy and in the past I never said yes to sitcoms. I was sceptical too for Maddam Sir but the way scenes were written, and the characters were sketched, I could do things easily. All credit goes to the writers, directors, and to some extent myself, after all I am a director's actor. Also, I want to thank Kinnari ma'am and Jay sir for believing in me," she adds.
Everyone likes to watch comedy shows. "I have watched many shows and plays but the most subtle was Sarabhai Vs Sarabhai and I wanted to do something like that. Maddam Sir too was a situational comedy. My character Pushpa was a situation-based comic character and was very funny," she shares.
About the show coming to an end and talks about season 2, she adds, "Every good thing comes to an end, so I would take it positively. At the same time season 2 discussions happen after every successful show bid adieu, some work out, some don't. In this case I have no official news. I would love to be a part of season 2 if it happens, I mean who wouldn't want to?"
For Sonali, Maddam Sir was a therapy that was going on for three years. "We laughed and had so much fun that it felt peaceful when we got back home after the shooting for a whole day. There are times when we don't get to rectify our faults but here in the show we can. Maddam Sir has set a benchmark and not an easy one to live up to," she signs off.