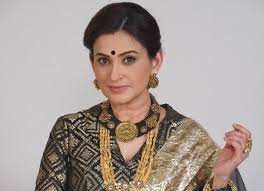 Smita Bansal has been doing daily soaps until she experimented and shot for Sab TV's Aladdin: Naam Toh Suna Hoga. As the show culminated, Smita has come on board for a recently launched show Bhagya Lakshmi on Zee TV.
In an exclusive conversation, Smita shared, "I have always done daily soaps and action fantasy was the genre which I tried for the first time but otherwise I've always done more of these shows so yes it's like coming back. I started my career with Balaji like 25 years back my first show was with Balaji, Ithihas and it came on DD so now after almost like 25 years and again I am working with Balaji so of course it feels nice to be a part of good show. Two shows on the channel, KumKum Bhagya and Kundali Bhagya have already been very successful and now comes Bhagya Lakshmi. So it is nice to be working on this show."
Keep reading this space for more information.
As per the recent updates, Lakshmi and her sisters have been brought to Mumbai and they recently got lost. They were chased by goons and Lakshmi ended up meeting her Bhagya, the one who she is destined to meet, Rishi Oberoi. The audience is excited to see how the story unfolds!
Keep reading this space for more information from the world of television, Bollywood and the digital world.