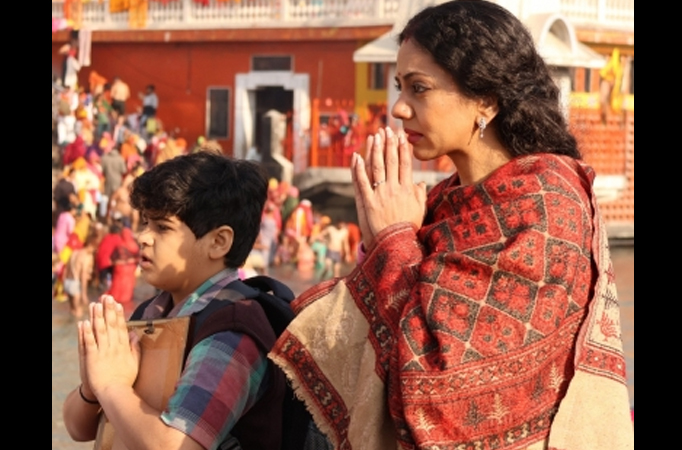 MUMBAI :Actress Neha Joshi, who is seen playing the character of a housewife and mother Yashoda in the show 'Doosri Maa', recently travelled to Haridwar and Rishikesh for shooting an upcoming episode along with her co-actor Mohit Dagga.
She enjoyed passing through the lanes and ghats of the holy towns and shared experiences from their recent visit.
In the show, Ashok (Mohit Dagga) goes missing after his wife, Yashoda (Neha Joshi), learns that Krishna (Aayudh Bhanushali) is his and Mala's (Nidhi Uttam) child. Yashoda and Krishna set out on a journey and are seen visiting Haridwar and Rishikesh to find Ashok.
While talking about the upcoming sequences, Neha said: "Yashoda is living through the most difficult time of her life after discovering that Krishna is her husband's illegitimate child. And as she struggles to accept the truth, Ashok, her biggest supporter, goes missing. Viewers will see Yashoda embark on a journey with Krishna to find him. The journey may be emotional on-screen, but I had a lot of fun shooting off-screen."
The actress shared her shooting experience in holy cities like Haridwar and Rishikesh and visiting Ganga ghats: "Shooting in holy cities like Haridwar and Rishikesh was a blissful experience. Our mornings would be waking up to the sounds of bells on the banks of the Ganga, a beautiful way to begin our day that would bring positive vibes. People around us instantly recognised us and would approach us to take selfies and compliment us on our show and characters. It truly made our day interacting in person with our audience, who would gather around our sets, watch the shoot and get us homemade food at times to taste."
"These small gestures made a huge difference to us. We thoroughly enjoyed these beautiful moments. I must say, the people's warmth and affection made us feel special, and we hope to keep coming back for more," she concluded.
'Doosri Maa' airs on &TV.